Doka, Poas Volcano, La Paz Waterfalls:
Departure time: 6:30 a.m.
Includes: Guided tour, transportation, breakfast, entrance fees, lunch.
Duration: 9 hours.

In the ascent to the volcano we stop for a brief explanation on our golden bean, coffee, and then continue our trip through fern, flower and strawberry.
Right now is a noticeable change in temperature and varied vegetation, preparing us for the pleasures of the exuberant cloud forest of Poas Volcano.
In the volcano it will take the time to observe the impressive main crater with its sulfur fumaroles.
Continuing, we will stop to discover the Gardens of La Paz Waterfall, a natural park in the park also visit one of the observatories of the country, which contains a fascinating collection of tropical jewels and the impressive hummingbird gallery, frog pond largest butterfly , aviary, snake, monkey Cats plus 2 falls.
After the walk we will enjoy a delicious lunch buffet and then begin the return to San Jose.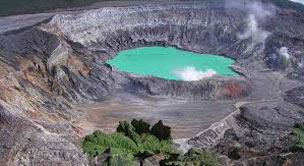 Precio: USD$ 121 / person